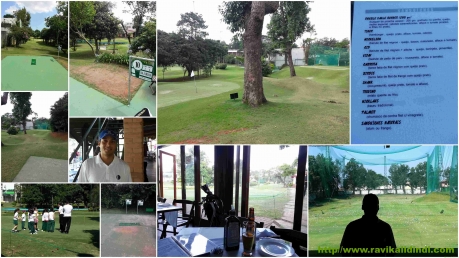 It was time to check out the local Golf scene. The front desk suggested I first try the FPG Golf Center 1, a 9 hole practice facility, since it was the nearest. Anderson, Uma's colleague from ClearSale, informed me that it was basically a "pitch & putt" course, and so not to expect too much.
It cost 15 reals/reais (seems to be pronounced hey-ice) for a small bucket of balls, and 30 reais to play nine holes. They have a driving range, putting area, chipping area, and sand trap for practice. The odd thing about the range was a net that was used more like a tent….high loft shots with a pitching wedge or 9-iron would hit the ceiling and drop dead! The course was pretty short, most holes were around 60 yards long…and the tee off areas were concrete with a small patch of artificial turf to place the ball. I'd say it is a pretty decent facility to get some practice in, but I'm not inclined to revisit in the few weeks I have left here in Sao Paulo.
Unsurprisingly, their restaurant had no "vegetariano" options. Had a "Vijay" from their lunch menu (sans "peru" aka turkey) while watching what I presume to be a field trip from the local kindergarden.