We heard good things about Paraty (pronounced Pɑ-rɑ-chi) from the locals. It is a drivable distance from Sao Paulo…all we had to do was pick a weekend, rent a car, and head on thataway. NOT SO FAST AMIGO!
Here are some obstacles I encountered…future car rental enthusiasts might want to take note:
Renting cars here is much more expensive than back in the US. For example, I paid 740 BRL (roughly $370) for 3 days rental of a mini SUV (ex: Renault Duster, Ford EcoSport)
Rental vehicles have manual transmission by default. Renting automatic transmission vehicles costs significantly more.
You have to present your original passport in order to rent. If your passport is stuck in say, the Colombian consulate waiting for a tourist visa, you are out of luck. Passport copies are not entertained. They will not bother telling you this when you book it over the phone, only when you get there in person hoping to drive the car away. At that point, you need a local to rent as the primary driver, and you sign in as the secondary driver.
Sao Paulo has a road space rationing law 1 that restricts vehicles from being driven on 1 allotted day per week. The car could be rented to you while being under restriction! In other words, you pay for it to be in the garage. At the time I rented, there were 15 minutes remaining before my rental vehicle's restriction went into effect. So I had to rush it to the hotel garage. Luckily, our journey was scheduled for early next morning.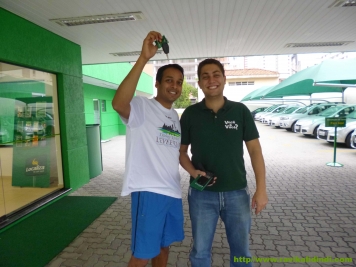 Rafa came through yet again. He did not blink when we asked for his help. This was a busy work day, but he made additional calls to shop around, drove to the rental agency in peak traffic, rented a vehicle on his name for someone (me) whose driving skill was unproven to him. He knew I was good for any incidentals that may accrue during the trip, but it still takes a leap of faith, and a great willingness to help. I learnt something from this experience.