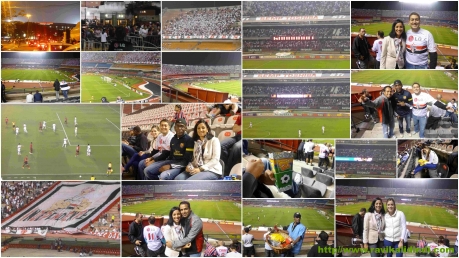 We jumped at the opportunity to attend a futebol game when Rafael (pronounced Ha-fa-ell), a big fan of Sao Paulo FC 1, asked us if we were interested in SPFC's elimination game with Atletico Goianiense (which apparently is not a top tier team). We (Onuwa, Uma, myself) joined Rafael, and Laura (pronounced Lau-da), and headed to Morumbi stadium, which was an hour's drive away in evening traffic.
Getting in and out of the stadium was a little intense, what with the swarming crowds singing their club anthem as they were being funneled inside, and a large police presence that gave the sense that fights could break out any time. Additionally, all the warnings we tourists get about crime, mugging, etc., tends to put us on edge. Fortunately, we had a great night with nary an incident.
The atmosphere inside was fantastic. Even though the stadium was maybe half full (stadium capacity is about 70,000 people), it was still electric. Unlike sports complexes back in the USA (that I very much enjoy), there were no sideshows, additional entertainment, commercialization, etc. Most of the focus was on the game, and the people created their own sound system, entertainment, etc. NO alcohol is served!!! I can only imagine how crazy things can get with that additional ingredient. I've never been into soccer, and I'd never been to a game before. But being there made us intently watch the game, and the whole experience was a blast!